The overall objective of this project is to improve the understanding of the expected impacts of climate change on water availability in the context of potential hydropower development in the Tamakoshi River Basin. Specifically, the project aims to (i) Understand the current baseline hydrological regime of the Tamakoshi River Basin, (ii) Develop detailed climate change projections for the 21st century, including factors relevant for hydropower development, (iii) To understand the future hydrology and its potential impact on the hydropower potential.
The climate, cryosphere and hydrology of the Hindu-Kush Himalaya (HKH) region have been changing in the past, and will continue to change in the future; warming of the climate system is unequivocal. The atmosphere and ocean have warmed, the amounts of snow and ice have diminished, sea level has risen, and the concentrations of greenhouse gases have increased. The Himalayan region has the third largest deposit of ice and snow in the world, after Antarctica and the Arctic and might be exceptionally vulnerable. There is good agreement among Global Climate Models (GCM) on future temperature trends in the region, but projections of future precipitation patterns differ widely. As a consequence, the demand for increased knowledge about future climate change is still high. A main focus has been given to temperature increases and changes to the hydrological cycle with the tendency that wetter regions mainly will become wetter and drier regions will become drier. Growing scientific knowledge and recent weather events show that extremes related to hydrological changes can be substantial though and the geographical and time-wise resolution of predicted changes is still low in many areas.
Energy is one of the major drivers of changes in the HKH region. The region has a high potential for hydropower due to abundance of water in conjunction with verticality of landscape. However, the changing climate and hydrological regime might pose a risk to hydropower development in the future. It has become imperative for hydropower developers to have a good understanding about the changes in the hydrological cycle and its uncertainty. Also, changing probabilities and magnitudes of extreme events can put additional risk on hydropower infrastructures.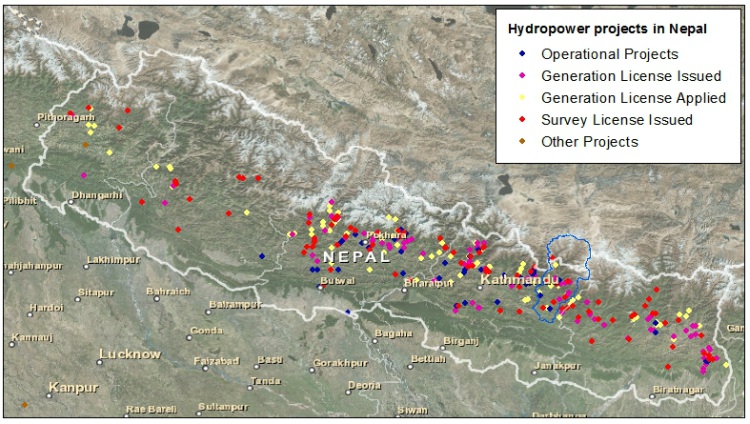 The overall objective of this project is therefore to improve the understanding of the expected impacts of climate change on water availability in the context of potential hydropower development in the Tamakoshi River Basin. Specifically, the project aims to:
Understand the current baseline hydrological regime of the Tamakoshi River Basin
Develop detailed climate change projections for the 21st century, including factors relevant for hydropower development
To understand the future hydrology and its potential impact on the hydropower potential
Publicaciones relacionadas
2017 - FutureWater Report 164Terink, W., W.W. Immerzeel, A.F. Lutz, P. Droogers, S. Khanal, S. Nepal, A.B. Shrestha. 2017. Hydrological and Climate Change Assessment for Hydropower development in the Tamakoshi River Basin, Nepal. FutureWater Report 164.X

Hydrological and Climate Change Assessment for Hydropower development in the Tamakoshi River Basin, Nepal

Terink, W., W.W. Immerzeel, A.F. Lutz, P. Droogers, S. Khanal, S. Nepal, A.B. Shrestha